---
Leroy Golf Sumerian Seals
Seals were the main interest of Leroy Golf and form the bulk of the collection. His special interests were complex mythologial scens, naked Innana-Ishtar seals and unusual imagery. This has led to the added benefit of having many early Dynastic seals. It is well known and commented that the cylinder seal was most varied and creative in design in its earliest days, and by the Old Babylonian period it had mostly settled into mediocre "presentation scenes" with perhaps a inscribed name or dedication. These early Sumerian Dynastic cylinder seals show a wide range of subject, and a staging worthy of opera. We also note that, although in later Dynastic and Babylonian periods seals were largely made of black stone, these Early Dynastic items use a wide range of multi-colored stones, most commonly steatite, but also chlorite, lapis, marble, fossilized shell and others. As with the statues, there is a family similiarity of many of these early Sumerian cylinder seals of Mr. Golf that points to them being from a single site in the region of Ur-Eridu-Erech.
Due to lack of concrete, stratified evidence of date for these seals my use of the phrase "Sumerian Dynastic" covers apx. 2500-1900 B.C.E.Simingly older style items are marked as possibly Dynastic I, II or III style, without that guaranteeing they are of that date since icon often continue in common use for centuries or millennia. Even though the carvings reflect early religious motifs I believe most of the cylinders were made in the Akkadian to Ur II-Isin-Larsa periods, and some are even first millennium. Also note that many of the seals have a red, rouge-like powder that may originally have been a packing material, but also was retained for the photos to make the carving more visible. Several of the statues also had such reddish residue, but there it was mostly removed to original patina and encrustations.
We also have to take in to account the fascination of Western collectors for the pictorial and unusual in what they value and collect as these collections fill the books on the subject. The bulk of all seals are dull and repetitive, usually by a formula. All collections move to the exotic, and Golf was no exeception. Although all of known motifs, many of these seals are of uncommon htemes.
G-Sum 9: Steatite Cylinder Seal of Seated God and Banquet Scene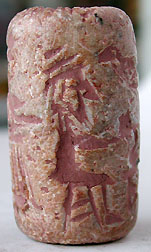 An early pictorial seal without inscription showing a seated god at a table or altar. The god holds a cup, with a jug on the table before him. Behind him is a bare breasted goddess, likely Innana, and before him is a king(?) holding a standard and a bird on a branch. A sacred tree (or tree of life) as a separator. The engraving style is linear wheel cuts that is characteristic of late Jemdat Nasr period seals, but the subject matter is more Early Sumerian Dynastic Period. This type of "Banquet Scene" seal is a Sumerian Dynastic motif, and the lack of an inscription as later became more general hints at a Dynastic I date. This may well be the myth of Inanna getting Enki drunk and getting the 100 mes from him.
Dynastic I seals are very scarce and the few I have seen have been almost entirely in museum collections or old catalogs. In contrast, Jemdat Nasr seals are common, and Dynastic III seals are often encountered. Mottled brown steatite, 33 x 17 mm, Dynastic I Period, 2900-2700 B.C.E. In a private collection.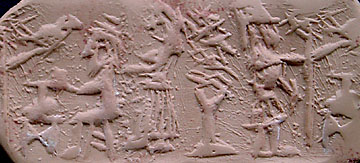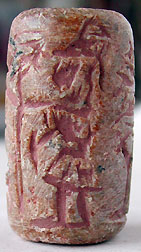 G-Sum 10: Cylinder Seal With Two Registers of Animals and Temple Gates With Inscription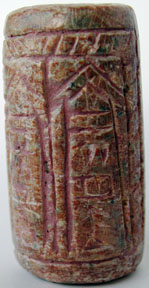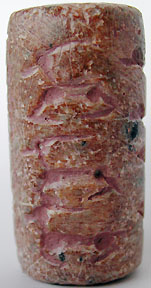 Jemdat Nasr style animals in two rows: three gazelles next to a column of two flying birds over two walking birds. Beside them is a temple gate with two lines of linear cuneiform on the doors that may be a somewhat later addition, or this could be one of the earliest Sumerian seal inscriptions. My guess is that the seal was originally late Jemdat Nasr, was retained as an heirloom or antique and then inscribed on the doors centuries later. Nevertheless, it is very early in style and script, whatever their relative date. Brownish steatite, 37 mm x 18 mm. Jemdat Nasr-Dynastic transition or early Sumerian Dynastic 3100-2500 B.C. E.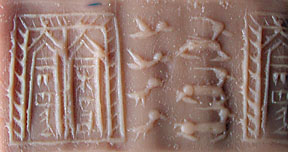 G-Sum 11: Cylinder Seal Showing God of Agriculture and Two Others Plowing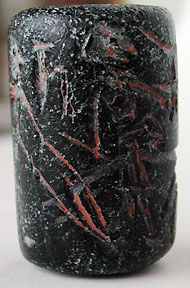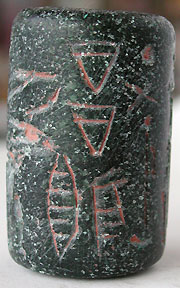 An early Sumerian Dynastic Period cylinder seal with a short near-pictographic inscription. The writing is so early that this could possibly be late Dynastic I, a poorly understood period with fewer artifacts than the preceeding or following periods. It depicts Enkimdu, the agriculture god, plowing with a donkey and two helpers. A star and crescent moon in the sky and the inscription as a separator. Despite the importance of agriculture to the Sumerians, seals showing Enkimdu plowing are very rare, with only a few known of the 250,000 or so cylinder seals recovered to date. This may partly be due to the immense popularity of Inanna, who, according to Sumerian mythology originaly favored marrying Enkimdu, but was later coerced by the gods into marrying Dumuzi, the god of pastoralism and flocks. This likely shows a strong prejudice by the Sumerians as a people who were originaly a wandering, pastoral tribe who conquered the native agricultural inhabitants of Sumeria, and it is probably why depictions of the agriculture god are so rare. The Biblical story of evil Cain, the farmer, and good Abel, the herdsman, reflects this bias.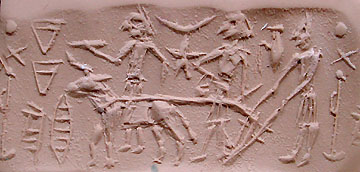 Black steatite, 32 mm x 19 mm. Early Sumerian Dynastic II Period c. 2700-2500 B.C. In a private collection.
G-Sum 12: Cylinder Seal Showing A God in A Boat on the River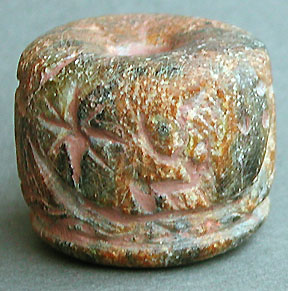 An early steatite seal showing a god in a boat with a river scene of reeds and plants, birds or chevrons, star of divinity, three dots and an early inscription in a panel that is turned 90 degrees.The script is nearly pictographic, and the short, wide seal form is more characteristic of Jemdat Nasr than the Dynastic period. The engraving style is also in a Jemdat Nasr wheel-cut style. Perhaps this has a later, added inscription, or it could be a very early inscribed seal from late Dynastic I or early Dynastic II period.
Although the sun god Utu-Shamash, and other gods as well, was said to travel the heavens in his sacred boat, this naturalistic scene is more likely a legend of southern Sumeria where the land had more waterways. There are two prominent boat myths from this region, and the first is more likely the subject of this seal. Enki, the water god, was the patron god of Eridu, the southernmost Sumerian city and one of the most ancient. It is said in the Sumerian myth of the building of Enki's temple in Eridu, the so called "sea-house", that after its completion Enki journeyed by boat to Enlil's temple in Nippur to obtain the blessing and approval of the king of the gods. The other famous boat myth of this region concerns the city of Ur and its patron god Nanna, the moon god. Enlil saw the maiden goddess Ninlil and lusted after her. She rebuffed his passsion, claiming innocent youth, so Nanna lured her to a boat on the Euphrates, where he raped her and conceived Nanna. Horrified at this breach of morality the other gods banished Enllil to the underworld for his crime, and we see that even the "King" of the gods is subject to law and morality. Both of these myths place the seal in southern Sumeria and hint that it is very early in date.

Multicolored black, rose and tan steatite, 20 mm x 25 mm. Sumerian Dynastic Period. In a private collection.

G-Sum 13: Akkadian Period Dilmun-Scribe Cylinder Seal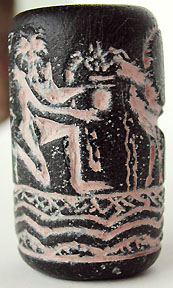 A magnificent large cylinder in a heavy black stone, deeply incised and heavily modeled as on typical Akkadian seals. It shows Utu-Shamash watering the animals of Dilmun under the orders of Enki, the water spouting in two streams from the sacred pot in his hands. There is a large bottom border of the flowing waters of the river between its banks.
In Sumerian mythology Dilmun was originally a land that was blessed with everything except water. Enki, the water god, was sent as their patron god to water the land and make it fertile. He sent Utu-Shamash, the sun god, to draw the waters from the earth and give them to the animals, palm trees and plants of Dilmun. Thereafter Dilmun became as a paradise, perhaps even "the" Paradise, and the gods dwelt there often. It is of interest that in the Sumerian story it is the animals that are watered first. As noted in the plowing seal G-Sum 11, it was more desirable in Sumeria to be a herder than a farmer, an attitude carried on in the later Semetic Genesis and Koran scriptures.
The imagry on this seal is thus one of the few cylinder mythological stories that we can easily match in the surviving literature. It is instructive of how little we know about Sumerian religion and life that most seals show stories we can not identify in the surviving literature. The owner of this seal is listed as a scribe in the inscription, and with the Dilmun legend shown he may well have been a merchant to Dilmun, docking his ships at Ur or Eridu. This seal could even have been dedicated to a temple along with the stone boat of G-Sum 6, which would explain its excellent condition.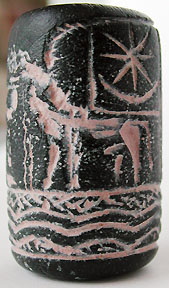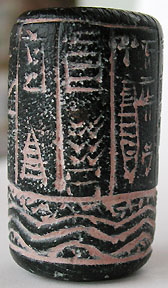 Besides the main, boxed inscription there is a later one of three characters cramed behind the kneeling god. This appears to possibly indicate the seal was an heirloom that was preserved and reused one or more generations laters.
Dense black stone, 38 x 21 mm, Akkadian period c. 2350-2200 B.C. In a private collection.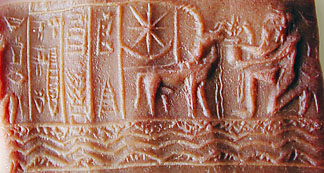 G-Sum 14: Cylinder Seal of Ninhursag Nourishing the King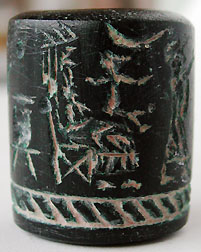 A stumpy cylinder seal in black stone with a complex temple scene. A helper god, with raised arm, introduces the worshipper to the seated godddess Ninhursag, holding the king on her lap and nourishng him like a child. Behind the goddess is a kneeling priestess making an offering before an altar fire. Behind her are two storage pots, and there is a crescent moon and drilled star in the sky. Underneath all is a double, hatched border likely representing the earth of which Ninhursag was the patron goddess.
Some inscriptions of the Neo-Sumerian kings speak of the king being nourished on the lap of Ninhursag as shown here. As the ultimate arbiter of fertility it was necessary to have her support and nourishment or famine would result. When Enki broke a prohibition and ate the eight sacred plants in Dilmun, Ninhursag withdrew from the world and life began to wither. She would not return fertility to man and the gods until Enki was banished to the underworld. This is an early domestic violence struggle, as Ninhursag was said to be Enki's consort in Dilmun, and bore him many children. Later he bred incestuously with their daughter and grandaughter as well. As inbreding was also practiced among the Egyptians this may have been a wide spread Middle Eastern custom prior to around 3000 B.C. In some versions of the story eight of his children were identified as the holy plants he ate, making his sin the worse. (The Greek god Saturn ate his offspring, and similar myths are found in many other places so it is a wide-spread myth.) When the gods finally bring Enki back from the underworld with eight magical wounds Ninhursag has to bear him eight more children to heal the wounds she caused.
Black steatite, 23 x 21 mm. According to one scholar possibly Akkadian or earlier, but at least Neo-Sumerian or early Old Babylonian, c. 2000-1800 B.C. In a private collection.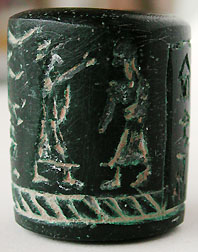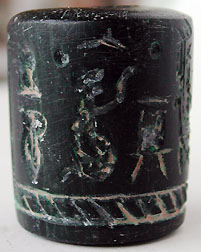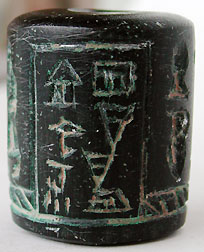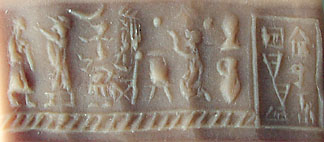 G-Sum 15: Cylinder Seal of a Goddess Picking Fruits From the Sacred Tree – Early Eve ?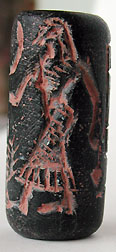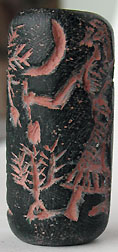 A black steatite cylinder seal, the stone in the style of Ur III, showing a goddess, perhaps Inanna, picking fruits from the sacred palm tree. This may be part of the origins of the forbidden fruit episode in Genesis. We have the goddess, fruit in hand standing in front of a small sacred tree, the large palm tree with ripe fruits and two birds (geese?) on the ground scavanging. Two birds is a frequent attribute of Inanna in later times, so these may be her birds as well. A four character boxed inscription completes the seal.
In ancient Sumeria it was not the apple tree that was sacred and special but the ever present palm. In many ways the palm tree made civilization possible in Sumeria and around the Persian Gulf. In distant Dilmun dates were a premium export to Sumeria.
36 x 17 mm, c. 2100-1800 B.C. In a private collection.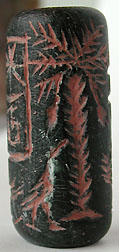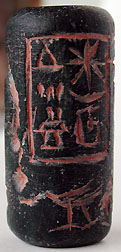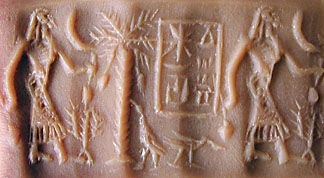 G-Sum 16: An Akkadian Period Cylinder Seal of Two Cross-Arm Worshippers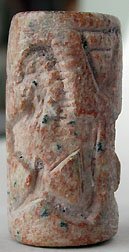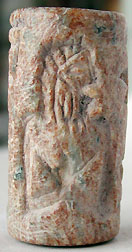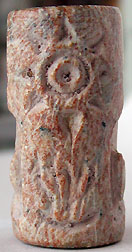 A brown mottled steatite cylinder seal with deep carving and modeling as is usual on Akkadian seals. It portrays two cross-armed worshippers with a large solar star above an altar fire and a single character in the sky.
Mottled reddish steatite, 37 x 18 mm, c. 2350–2200 B.C. In a private collection.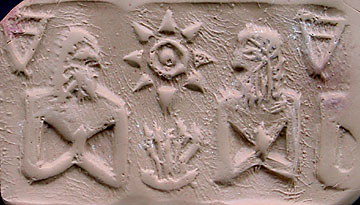 G-Sum 17: Early Dynastic Double Register Cylinder Seal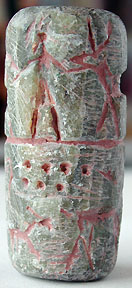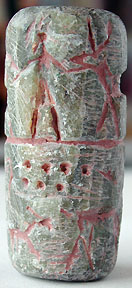 A complex series of religious tableau in two registers. On the top a man holds an animal in each hand, along with a very early near-pictographic inscription. On the bottom register is a reed mat building and a man chasing two animals with a stick. Overhead are seven drilled dots for the seven stars of the seven main gods (the Pleiades were thought to be the seven great gods gathered together). The men are likely Dumuzi, the god of animal herding and husband of Inanna. Through Inanna's two sides as goddess of love and often violent prophetess of war, Dumuzi became the god of death and renewal who was sacrificed at regular intervals, originally every year. The dying and renewing annual god of fertility is common in most classical cultures and shows their close ties to the cropping cycle of the earth's seasons.
These double register Sumerian seals are all very early in date, and the reed mat building takes us back to Sumerian origins before dried bricks were used. The Early Dynastic seals bear rich iconographic stories as here that are seldom seen after the Old Babylonian period.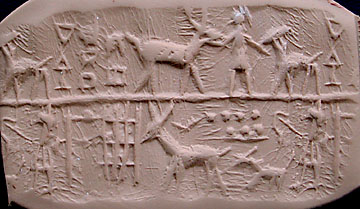 The heavily worn ends are usually the result of surface-find seals used by Arab women as ornamental beads. Many of the cylinder seals in commerce come from such Bedouin necklaces.
Green chlorite, 40 x 17 mm. Sumerian Dynastic II, c. 2700-2500 B.C. In a private collection.

G-Sum18: Jemdat Nasr Marble Cylinder Seal with Swimming Sea Turtles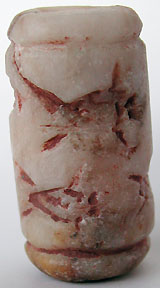 A fine example of the Jemdat Nasr period frieze of animals motif. Two rows of turtles swim around the seal with single line border top and bottom. There are many kinds of animals and fish represented on Jemdat Nasr seals like this one, but sea turtles are very unusual and rare. White marble with brown swirls, 30 x 15 mm, c. 3100-2900 B.C. In a private collection.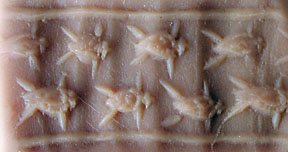 G-Sum 19: Early Dynastic Physician's Cylinder Seal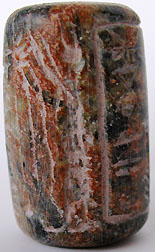 A most interesting seal of a physician from the Early Dynastic III period. It shows the worshipper, in almost stick figure style, with his arms raised in prayer and a six column inscription. The inscription must be of a standard, formulatic type as it is 90% identical to one on a Old Babylonian physician's seal shown in Chiara's book They Wrote On Clay (impression shown below right). Both also show the distinctive "physician's instrument", although Chiara's example also has a sacred tree and two standards with pots, and the god wears a distinctive Babylonian costume. Richly mottled steatite in black, brown and red, 30 x 18 mm, c. 2600-2400 B.C.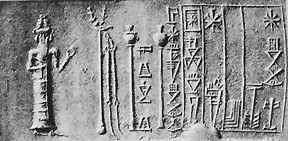 G-Sum 20: Cylinder Seal Showing a God With Staff and Sacred Trees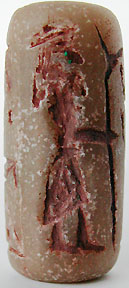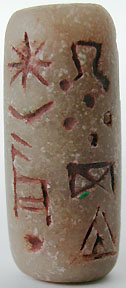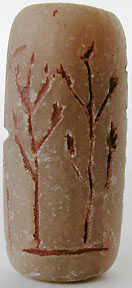 An alabaster cylinder seal depicting a god with a crescent-topped staff in front of two sacred tress and a two column inscription. The style of the stone resembles those of the Ur III period, and the god's costume seems to be of similar age. His staff is a sign of divinity or power, perhaps the same as me number 5, the exalted scepter. 38 x 14 mm, Ur III period, c. 2100-1900 B.C.
G-Sum 21: Uruk Period Cylinder Seal With Herdsman Leading Animals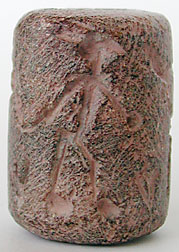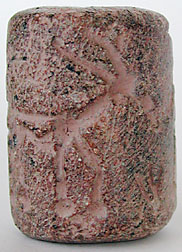 A man leads two animals with a crescent moon in the sky and vegetation clumps on the ground. One of the least complicated cylinder seals in this collection, and very early. The figure is likely Dumuzi, the god of herding animals and Inanna's husband. Deeply carved with heavy surface patina. Brown steatite, 24 x 17 mm., c. 3500-3100 B.C. In a private collection.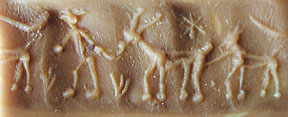 G-Sum 22: Akkadian Cylinder Seal with Seated Goddess, Altar and Tree Myth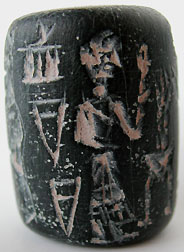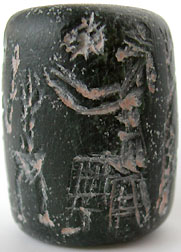 A short,black steatite seal with a very complex scene. A priest stands before a burning altar in front of a seated goddess with outstretched hands and a star of divinity above her. Behind the goddess a woman sits spinning under a large tree that is being bent or pulled down over her. There is a three character inscription separating the designs, and it is fitted into the design in a crude manner.
The seal seems to show a ritual being performed before Inanna, and the tree may well be from the Lilith myth where Gilgamish, now spoken of as Inanna's "brother", agrees to pull up the Huluppa tree that is infested with a serpent in the roots, the Imdugud (orAnzu) bird and its young in the top and Lilith in her house in the middle. (In other versions of the myth Ninshuber with her "eye of power" is Inanna's helper.) All this supposed evil kept the tree from fruition and being turned into a throne and bed for Inanna. It is a murky and complex myth that is seldom shown in art, and spinning women are very scarce on seals indeed. We know little about Lilith; in some texts she is a sister to Inanna, in others a rival; implied as evil in the core myth, yet she carries the uprooted tree into the city of Uruk for Inanna whom she thus seems to serve. A good translation of this myth is found in Wolkstein and Kramer's Inanna: Queen of Heaven and Earth. But, with our uncertainties on Sumerian myth and art, this could also be an unknown story about Uttu, the goddess of weaving and vegetation.
Black stone, 39 x 20 mm, Akkadian period c. 2300-2100 B.C. In a private collection.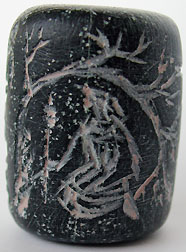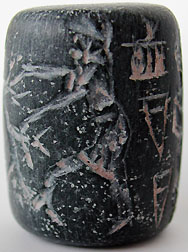 G-Sum 23: Seal With Worshipper Making An Offering To a Seated God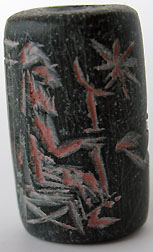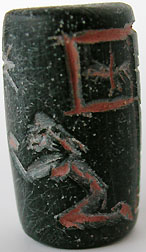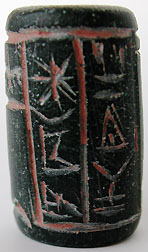 A small black cylinder of the Old Babylonian period that shows a kneeling woman making an offering to a seated god with crescent-topped staff, standard behind him, star of divinity in the sky and a three column, boxed inscription that fits around the design. Black steatite, 25 x 14 mm, c. 1900-1700 B.C. In a private collection.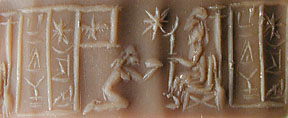 G-Sum 24: Geometic Diamond Pattern Jemdat Nasr Cylinder Seal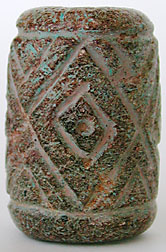 A brown steatite seal of a repeat diamond-within-diamond pattern with a drilled center dot in each diamond, and a single border line top and bottom. The pattern was laid out by eye and the diamonds vary greatly in width. It resembles and may be descended from the "occulus" motif, or it could be a net. This pattern was quite wide spread and could as well be from Northern Syria as Sumeria, but as it was found with the Sumerian items we place it here. 26 x 17 mm., c.3100-2900 B.C. In a private collection.
G-Sum 25: Ur III Period Cylinder Seal Depicting Inanna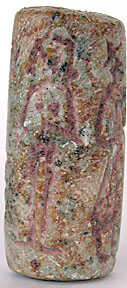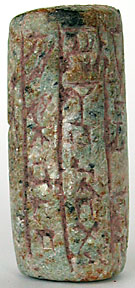 A light green steatite (or chlorite?) seal with tan matrix inclusions. It shows a god, naked Inanna, a star of divinity and an unknown object with a three register inscription in linear cuneiform. To the right of Inanna are a star of divinty and an altar(?). 33 x 15 mm, c. 2100-1900 B.C.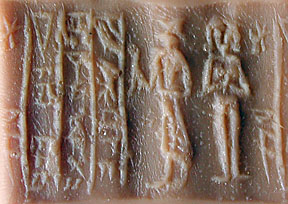 G-Sum 26: Sumerian Dynastic Cylinder Seal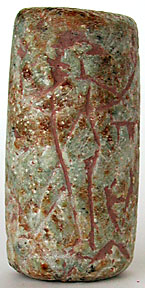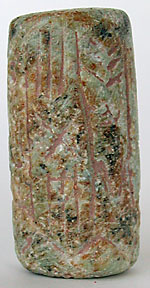 Light green steatite (or chlorite?) seal mottled with tan and black. it shows a simple, stick figure-like god with a bird head, an altar(?), a near-pictographic linear cuneiform inscription and three unidentified objects around the god (more characters?). There is a zig-zag bottom border, thought to depict the effect of a gold or bronze mounting for the seals. 32 x 15 mm, c. 2000 B.C.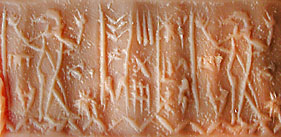 G-Sum 27: An Altar Sacrifice Cylinder Seal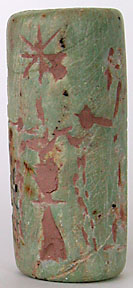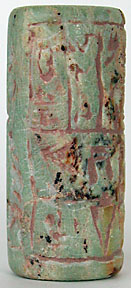 Light green chlorite seal showing a worshipper or priest making an offering on a burning altar with a god on the other side of the altar. It has an early linear cuneiform inscription with three vertical registers in the top half and two in the bottom half of the inscription. Excellent condition with a fine, polished surface with only minor patina scratches. 35 x 14 mm, c. 2300-1900 B.C.
G-Sum 28: Marble Cylinder Seal with Worshipper and Altar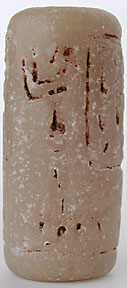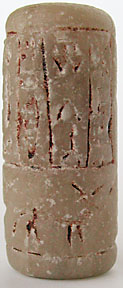 An early seal of Late Dynastic origin with a worshipper, a high altar and an unidentified figure with a four register inscription beneath which are two horned animals. The mounting hole is not drilled all the way through this seal, and the engraving is much worn with age and use. Indeed, most of the marble seals I have seeen have been quite heavily worn. 38 x 16 mm, c. 2300-1900 B.C.
G-Sum29: Ur III Cylinder Seal of the Bare Breasted Goddess Inanna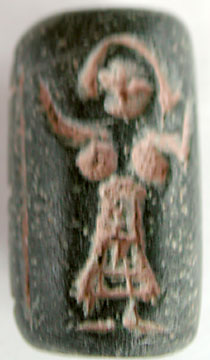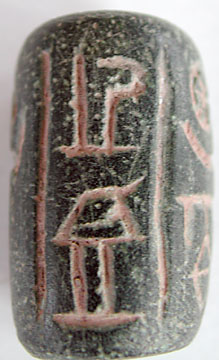 Black steatite seal of the bare breasted goddess Inanna and a three register inscription. The goddess is wearing the layered skirt of ancient Sumeria with her hands rised in devotion. The inscription has the owner's name in the first register ("ur" + ?), likely his father's name in the second register, and the third proclaims his devotion to a god or goddess ("servant of" + ?). This class of seals is called the "erotic series" due to their subject matter.
The heavily worn ends are usually the result of surface-find seals used by Arab women as ornamental beads. Many of the cylinder seals in commerce come from such Bedouin necklaces.
Apx. 26 mm tall, c. 2100-1900 B.C. In a private collection.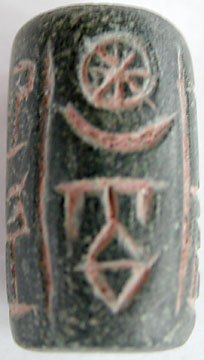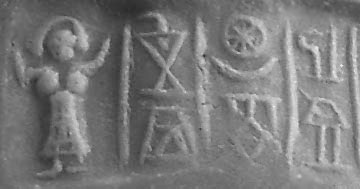 G-Sum 30: Marble Cylinder Seal of the Late Dynastic Period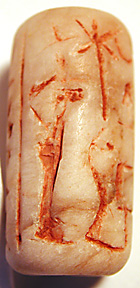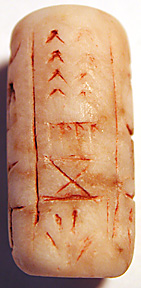 A tall and slender marble seal of a worshipper, a star-topped staff, an altar and an inscription. Apx. 30 mm high, c. 2100–1900 B.C. In a private collection.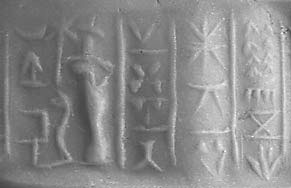 G-Sum 31: Old Babylonian Cylinder Seal in Black Stone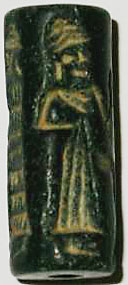 An Old Babylonian period presentation scene cylinder seal. A god, likely Sin, the Moon God, stands with his foot on a mountain, a sign of conquest and power. A lesser, helper god introduces the worshipper to the god. Crescent moon in the sky. The black stone could be steatite or hematite. 23 x 10 mm, c. 1800 B.C. In a private collection.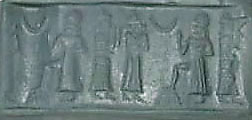 ---