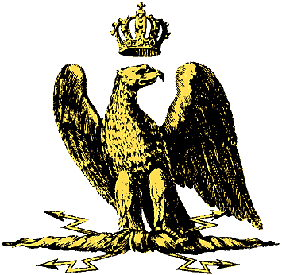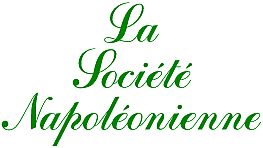 The Société Napoléonienne was founded in 1957 to promote understanding the role of the Napoleonic period in history and its importance in forming the modern world. The Société is especially interested in the military history of Europe during this period. The members are encouraged to research and publish articles increasing the store of human knowledge, and to collect and preserve art and artifacts of significance. Any questions or contributions should be address to the secretary of the société.


Articles Published by the Société
By John Beresford Welsh
A history of the raising and campaigns of the Lithuanian Tartars of the Guard during their brief existance from 1812-1814.
By Stephen Herold
A preliminary study of the composition and activities of the Austrian Corps of the Grande Armée.
By John Beresford Welsh
A description of the reenactment wargames created by members of the société using their extensive colection of hand painted "flats". Flats are the original "tin soldiers" invented in Germany over four hundred years ago and are cast in hand-engraved slate moulds. Some of the moulds in use today are centuries old, and the figures, usually around 30 mm. high, are of exquisite detail.
By Stephen Herold
A list and description of the various orders, medals, decorations and signs of honor issued by Francis I (II) of Austria between 1792 and 1816. Where possible they will be illustrated.
A list and description of the order in which Austrian subjects should wear orders and medals to which they were entitled. This is the final, 1918 list.


Useful Links
Antiques AtoZ's Military Resources
Access to many articles and lists of research material on generally military subjects and items. Includes Napoleonic material.

Napoleonic Titles and Heraldry
An excellent resource created by François Velde. Contains a list of all the Kings, Grand-Dukes, Princes and Dukes created by the Emperor Napoleon I.

Site Napoléon
For enthusiasts of the first and second French Empires and to those who would like to discover the Napoleonic world.


---
Also of interest is our associated organization La Confrérie Amicale de la Toison d'Or which is dedicated to the history of the Order of the Golden Fleece and the Habsburg monarchy.


---
All material is Copyright by The Société Napoléonienne, © 1996-2003. All rights reserved.