Victoria Cross Awards -- 1854-1914
A Series of Informational Articles
Edited by Stephen Herold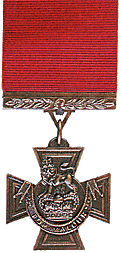 The foundation of the Victoria Cross by Queen Victoria in 1856 marked the recognition by hitherto aristocratic governments of the value of the brave fulfillment of duty by ordinary soldiers. As such it is a significant social as well as military event. Given only for the most conspicuous gallantry, it remains perhaps the most prestigious and valued decoration for exceptional service in the service of country. The following articles present the history of this decoration up to the beginning of the First World War.


---


There are some other, more complete and very impressive pages on the VC:
Victoria Cross UK Grave Sites
Lists all Victoria Cross holders with grave sites in the United Kingdom with details on grave locations, as well as the award details and biographical info.

Victoria Cross Reference
A complete and detailed reference to all VCs. A massive quantity of information.

The Australian and NZ Victoria Cross Web Site
Australian and New Zealand VCs, with details.

The Victoria Cross (in India, 1912-47)
A list of all Indian recipients of the VC, with details. Until 1912 Indian natives were ineligible for the VC.


---
Go to Books AtoZ.
Go to Antiques AtoZ.
Go to Military Resources.