Volhynie Campaign -- 1812

When the Russian General Lambert (with two cavalry regiments) crossed the Polish-Russian border on 16/VII/1812 the Polish War Minister General Wielhorski created a Division to protect the Grand Duchy of Warsaw. Most sources refer to this unit as the "Bug Division" after the largest river in the region it campaigned in. The Division was placed under the command of General Amilkar Kosinski. As the Grande Armée had seriously depleted the Grand Duchy's manpower the division was composed of a mixture of National Guard, veterans, Depot Batallions and miscellaneous recovered-injured and detached men. One important result of this ad hoc recruiting was a serious shortage of guns, with only eight in the whole division. On 18.VIII.1812 General Kosinski got in strategical contact with FM Schwarzenberg. On this day the Division consisted of:

Right Wing (near Hrubieszow*) - Colonel Zymirski
1st and 2nd Btn. / 13th Polish Regiment
Centre (At Uscilug-Dubienka*) :
Depots of 8th and 12th Polish Regiments and National Guard from Lublin, Siedlce, Radom, Krakow
Left Wing - General Kwasniewski (near Wlodawa*):
1st Provisional Polish Cavalry Regiment Major Pogonowski
2nd Provisional Polish Cavalry Regiment Major Sokolnicki
(The Left Wing had tactical contact with General Reynier during this period.)
* All places on the Bug River

On 4/IX/1812 in Vladimir (on the Volhynie) this Division was reorganized and now consisted of :

Polish (Provisional) Division
General of Brigade A. Kosinski

1st Brigade - Colonel Zymirski
13th Polish Line Regiment (3 Btns.)
Polish National Guard*
Polish Jagers*
Polish Veterans*
* I know nothing about the strength of these units.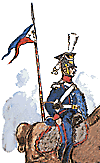 2nd Brigade - General Kwasniewski
1st Provisional Polish Cavalry Regiment Major Pogonowski
(Consisted of depots sqns. from Line Cav. Regiments)
2nd Provisional Polish Cavalry Regiment Major Sokolnicki
(Consisted of National Guard Cavalry)
Artillery - Colonel Plonczynski
8 guns

Total strength: ca. 5600 men, 8 guns

Kosinski was technically subordinated to Reynier in Schwartzenberg's theater of operations, but in fact the Bug Division fought on the Volhynie as an independent unit. During the majority of 1812 it was successful in checking further advancement by the Russian forces. By the end of the year, with the French retreat into Germany, it was incapable of stopping the occupation of the Grand Duchy by the Russian Main Army, and so its brief career ended. A brief history of the Bug Division campaign service illustrates the nature of its service.

The top illustration shows the light infantry (jaegers) and line infantry uniforms of the Grand Duchy of Warsaw. The bottom illustration shows line cavalry.


---
Reference: G. Zych; "Armia Ksiestwa Warszawskiego 1807-1812";. Warszawa; 1961. (G. Zych; "Army of Grand Duchy of Warsaw"; Warsaw; 1961)

This information has been supplied us by Marcin Mystkowski in Warsaw.
---
Return to Main Page
Bug Division Campaigns
Return to Campaign History
Return to Campaign Forces Page
The Société Napoléonienne
Antiques AtoZ Home Page