Aldenhaag Fleece – Further Documentation & Photos II
¶ Documentary art could be added here by the hundreds to support the identity and dating of the standing ram fleece. Below we show some of the supporting works of both contemporary use and later re-use of the form.
First we look at later representations of early members of the order wearing a standing ram fleece. Although made in the 18th and 19th centuries they seem clearly copied from older, contemporary busts that were likely in bronze. They therefore are good secondary sources that, despite their late dates, reflect earlier models and appropriate usage.From the left: Ferdinand II in an 18th century Meissen bust, Mathias from the same Meissen series and Rudolf II in a gloriously colored 19th century majolica. On the far right is a French early 18th century bust, subject unknown.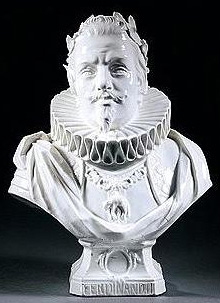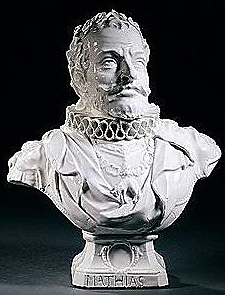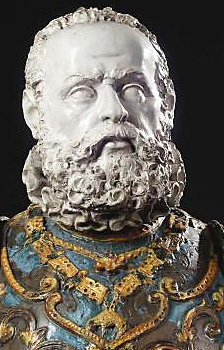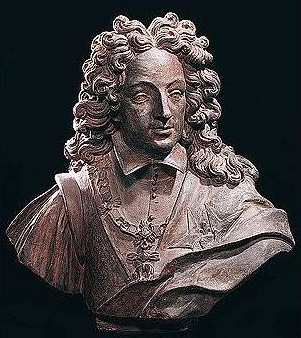 Next we look at some contemporary 16th and 17th century portraits. Not surprisingly some of them, although displaying a golden fleece, are as yet unidentified. From the left: Supposedly Ernest III of Austria, but the portrait says Maximillian [II]; Ambrosio Spinola; Cosmo de Medici; and the unfortunate Lamoral van Egmond. Spinola's small collar hangs naturally, but those of Ernst/Maximillian and Cosmo are clearly later additions to an older portrait.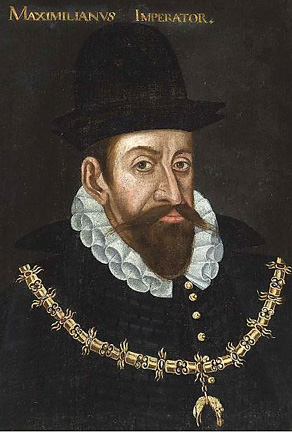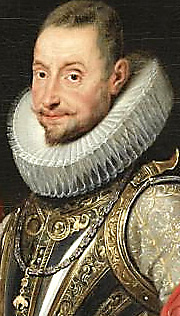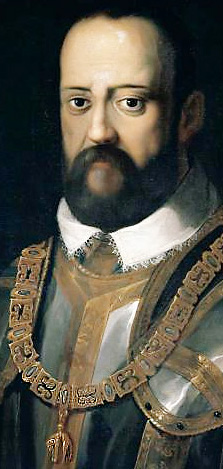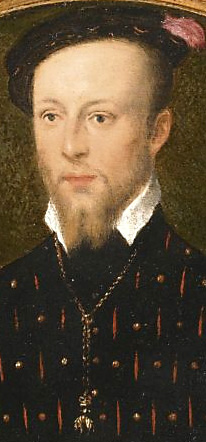 Slightly later in time we find a more international group. From the left: Antonio Duke of Mondelo, before 1627; Karl VII Albrecht of Bavaria; an unknown child member of the order in a German 17th century painting; and the Duke of Penthievre.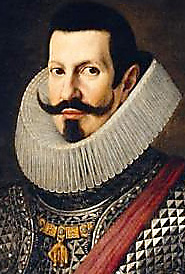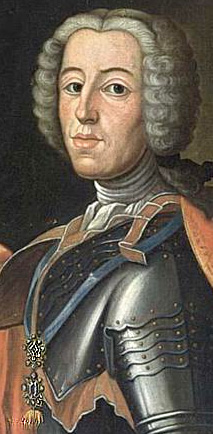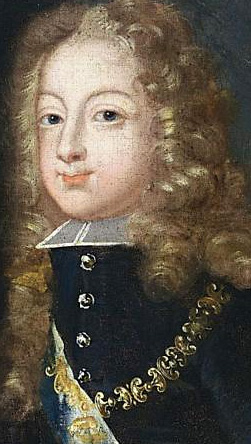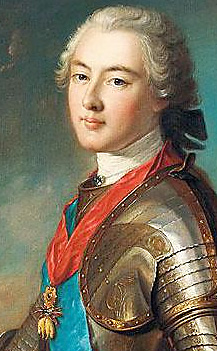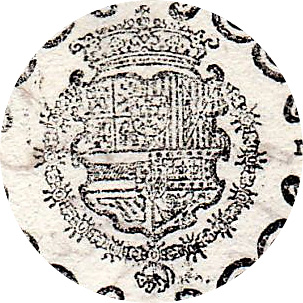 Of about the same date is this Spanish wet seal tax stamp dated 1663 where the conservative Spanish have retained an old form in a now frozen public image. Reduced to almost a little bear, the quite fat standing ram lives on thanks to bureaucratic continuity.
Of much later date, and thus more suspect accuracy, these are the latest usages known. From the left: Augustus the Strong of Saxony, 1730; two portraits of Joseph II, the first a more casual portrait and the second a formal court one. It is hard to believe that Joseph really had such standing ram fleeces in the late 18th century, despite the portraits. None survive as objects today, at any rate.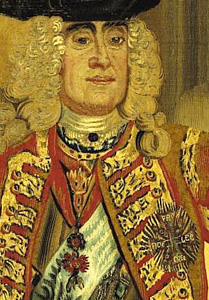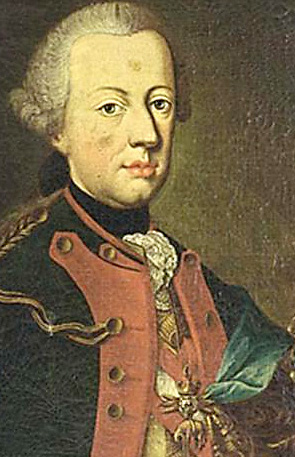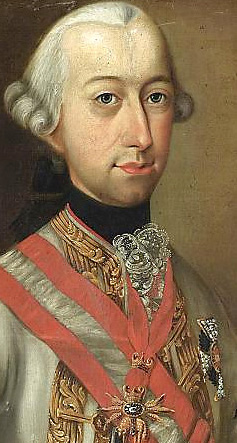 Finally we come to the latest and most difficult to reconcile with survival of an early 16th century style. On the left is a portion of a portrait on a snuffbox from c. 1790 that shows a plump Austrian Fieldmarshall. Since this was in some manner a commercial object it may reflect borrowing the fleece from a much older source, although the other order he wears and the uniform are absolutely correct and of the right date. To its right is an example of where art is of no use at all for information. We have a portrait painted in the 17th century of ancestor Emperor Henry III who lived in the 11th century, four hundred years before the creation of the Golden Fleece that is awkwardly painted on him. Pure propaganda and family pride in elevating an ancestor, but not accurate.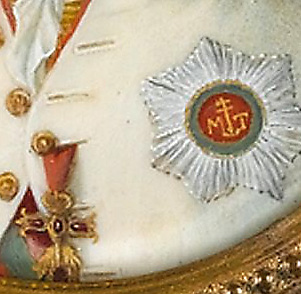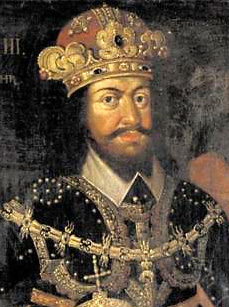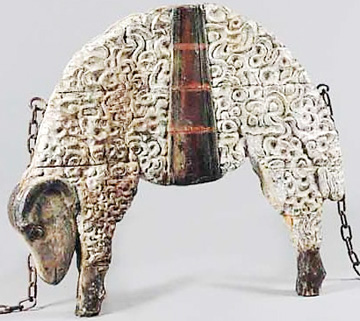 ¶ When we turn to the standing ram in the later wool trade we see it still a vibrant part of the trade and its guilds down almost to the present day. Below is an excerpt from the History of Wool and Woolcombing by James Burnley about the guild festivals associated with Bishop Blaize, a third century martyr and patron saint of the wool trade. They use the Golden Fleece in many ways and, in a Victorian manner and style, tried to create pageants reflecting ancient culture. Despite this they were, for the most part, rowdy events in the old English fashion. To the right is a standing ram shop sign from Wales c. 1800, and so quite close in time to Burnley's story, that is certainly a standing ram but with a saucy English air that could come straight from a Wallace and Gromet film. Burnley says:

"The apprentices and masters' sons, however, formed the most showy part of the procession, their caps being richly adorned with ostrich feathers, flowers, and knots of various coloured yarn, and their stuff garments being of the gayest colours; some of these dresses were very costly, from the profusion of their decorations. The shepherd, shepherdess, and swains were attired in light green. The woolsorters, from their number and the height of their plumes of feathers, which were for the most part of different colours, and formed in the shape of fleur-de-lis, had a dashing appearance. The combmakers carried before them the instruments here so much celebrated, raised on standards, together with golden fleeces, rams' heads with gilded horns, and other emblems. Another had a painting of Medea giving up the golden fleece to Jason; a third had a portrait of the King; and a fourth appeared to belong to some association in the trade. A contingent of woolstaplers, headed by a brass band, led the way, accompanied by a flag bearing the motto, "The Wool Trade." On the heels of these followed a gaily-decorated waggon, upon which a real woolsorter was seen at work at a real sorting-board. The front of the waggon held a carved representation in wood of the legend of the Golden Fleece, the same that had been used in the celebration of 1825. Then there was a large car, supporting a vessel representing the Argo, in which were figures representing Jason and Medea, the emblem of the Golden Fleece floating in the breeze above their heads."
---
II. The Hamlets of Thedinghsweert & Zoelen-Aldenhaag
III. The van Egmonds, Claes Vijgh & The Golden Fleece
IV. The Standing Ram Fleece & Charles V
Appendix 1. The Standing Ram Fleece As Seen in the Insignie Orden Book & Other Catalogs
Appendix 2. Other Scholars Look At the Aldenhaag Fleece
Appendix 3. Greek & Roman Mythology of the Golden Fleece
3B. Classical Texts That Mention the Golden Fleece
May 2010 Meeting on the Aldenhaag Fleece — 1. The Places
May 2010 Meeting on the Aldenhaag Fleece — 2. The Fleece
Return to Society of the Golden Fleece
Return to the Golden Fleece Insignia Page
Antiques AtoZ Home Page
Medals, Orders & Decorations